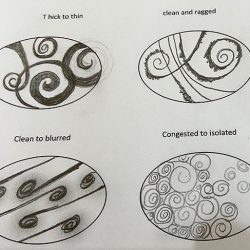 Helen Wyland-Malchow has been teaching the guild design elements at the Zoom guild meetings..
She started with LINE. Download the Worksheet here.  (was sent out with the June NAN).
She went over different elements/attributes of Line.
Take something you love and represent it as LINE and do the exercises on the worksheet. The pictures are examples that Helen showed to explain the different concepts. Play with it and have some fun!
We will share our worksheets at the ConneCTion Challenge Zoom meeting on July 3.
Looking forward to seeing all we do!
"When you feel the urge to mindlessly scroll through Facebook, take out the worksheet and play with the exercises" ~ Carole